This boy
My Sam. The kid who can make me laugh and cry all in one hit. He's a little legend and a cheeky brat too.
Yep i can say that coz he's mine :)
Today he made me laugh my you know what off.
We played Hide and Seek.
I could hear the giggling while i counted..
1,2,3,4,5,6,7,8,9,10..ready or not here i come...."Hmm...where could Sam be??"
giggle giggle from somewhere close by...
"Hmmm i wonder if Sam's in the fridge...?"
More giggling...
"Nope he's not in the fridge.Maybe he's in the dishwasher..."
By now the giggling is very loud....wet your pants laughing kinda loud.
That's when i notice them. Ten cute little toes....lotsa giggling...and a cat called Scamp giving it all away.
I grabbed the camera (lucky it was right near where the giggler was hiding)
AND SNAP i sneakily took a photo. Here's a hint....
Remember this book? It's one of our faves to read.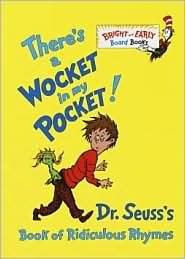 Well there was no WOCKET IN MY POCKET.NOT EVEN A NOOKGASE IN MY BOOKCASE.
BUT there sure was
A JERTAIN IN THE CURTAIN !!!
LOL can you see those cute little toes peeking out there? Cracks me up!
Of course i had to pretend i didn't see them.
"hmmm....i think i might just open the window here and see if Sam is outside....""RAAAAAAAAAAAAAAAAAGHHHHH"
the owner of that giggle leapt out at me !
Fits of laughter everywhere and a very happy little boy, content with the fact that he is the hide and seek champion and he 'Scared mummmy's lights out.'
Dont cha just love how much our kids make us laugh?
You gotta love it.
HAPPY DAY EVERYONE
Love and Pink Kisses,
Shann and the JERTAIN IN THE CURTAIN
XXXOOO