27th Sept 2:45pm
************ THIS GIVEAWAY IS NOW CLOSED***************
***WINNERS NAMES WILL BE POSTED SHORTLY***
YEP GIRLS YOU READ RIGHT!
FINALLY I CAN REVEAL THAT THE SWEET SURPRISE IS A GIVEAWAY.
BUT..this is not just any old giveaway...WE'RE TALKING HUGE HERE!
Ive rounded up the
best of the best Aussie Girls
here to bring you a giveaway full of
SOOOO MUCH GORGEOUS-NESS
you wont believe your eyes!
Now grab a coffee, sit back, relax and get set for a photo overload as i show you all the beautiful items you could win.
Pink and Blue Heaven full of Roses from the gorgeous Kathryn @
ourshabbycottage
You can visit Kathryns
WEBSITE
as well.
The sweetest sugary treats from the equally sweet and beautiful Bek @
Beksshabbydreams
You can also visit Bek on
EBAY
The prettiest EVER Fairy Creations from the amazing talent of Kerryanne
@shabbyartboutique
You can also Visit Kerryanne at her
WEBSITE
.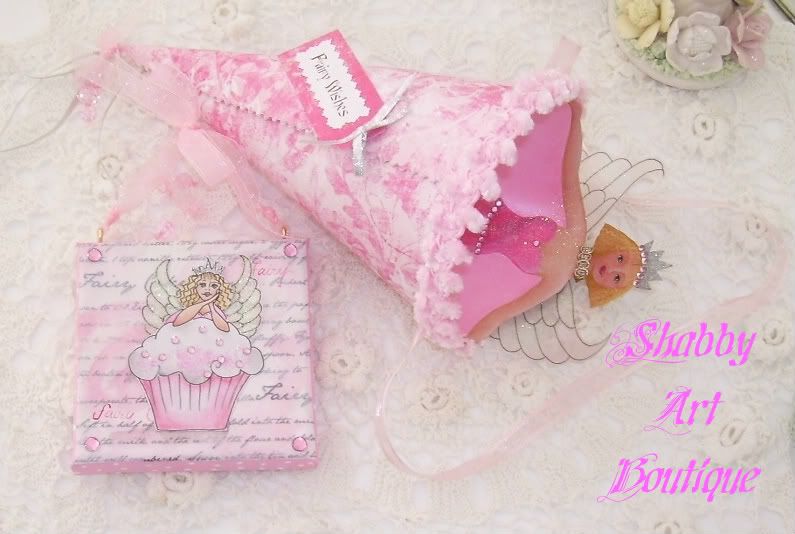 A Sweet and Sinister Tussie for Halloween, from the oh so clever and gorgeous Jullie @
whimsicalnotions
. Jullie will be opening an ETSY STORE very soon we hope!
A small slice of heaven,complete with Angel, from the lovely and witty Kylie @
abiteofcountrycupcakes
You can email Kylie via her blog for custom orders
The most beautiful creations from the amazingly talented and sweet duo of Linda and Laura @
LillyCottage
You can visit the girls at their
ETSY
or on
EBAY
From lil ole me here @ paintminepink, My Roses and Cupcakes.You can also pop by my
WEBSITE
or
EBAY
and visit me.
SO....now that you've seen all the beautiful creations.....
I have combined them all so that there are
2 LOTS OF PRIZES
!
YEP you have 2 chances of winning !
Here they are all together!
A)
B)
Both sets of prizes are
EQUALLY FULL OF GORGEOUSNESS AND HEAVEN !
NOW all you have to do to enter is leave a comment on
THIS POST
. PLUS if you add our giveaway button to your blog, with a link back to this post your name will go in
TWICE
! Just be sure to let me know youve linked back to it.
SOUNDS GOOD DOESNT IT ??
YOU BETCHA IT DOES !
My trusty assistant Sam will draw the 2 winning names for us on
SATURDAY 27th September.This giveaway is open to EVERYONE.
If you dont have a blog just leave your name and a contact email for us.
THE WINNERS NAMES WILL BE POSTED HERE AND ON THE BLOGS OF ALL THE GIRLS INVOLVED IN THIS GIVEAWAY.
SO was it worth the wait and all the teasing i did ???
LOL. I KNOW IT WAS !
LOTS OF LUCK EVERYONE!
Before i go i have to say Thankyou from the bottom of my heart to Bek, Kylie, Jullie, Linda and Laura, Kerryanne and Kathryn for joining in on this with me! You girls are ROCK STARS and i luv ya!
Also thanks to Gail, Alicia, Siobhan and Linda who sadly couldnt join us this time but hopefully can next time!
HAPPY WEEKEND EVERYONE
Lotsa Pink Kisses
Shann xxxxxx